Heyhey,
as I told you last time, I am currently working to finish my portfolio. I´ve had a break the last two weeks, to visit the animation school in Hamburg for a short internship. I´d love to work as 2D animator, either for the gaming industry, commercials or movies, but I don´t know much about professional productions, because at uni, I needed to work alone on my movies. There are so many different jobs I don´t know about and I still need to learn a lot and figure out what I can do best. That´s why I´ve been to Hamburg. It´s amazing, how much I´ve learned in just two weeks and I had a lot of fun working with so many talented people. I am deffinitely going to apply to this school, as well as for proper jobs to try my luck :D I think I am going to finish my porfolio as character desiger this month, so I can finally send some applications.
For the application to animation school, I´ve drawn Martin Freeman, because they requested a portrait as well. I wanted to draw grumpy Martin a while ago and now I finally got a reason.


And another thing I´ve wanted to draw long time ago, is pirate Sherlock! Do you remember this entry? I wrote that I wanted to draw Sherlock and Mycroft treasure hunting : D You can imagine my delight, when Mycroft told John in ASiB that Sherlock really wanted to be a pirate. Now there was no going back! Here it is:


<3
I am currently working on my portfolio and and since I need new illustrations, I decided to draw a postcard for a good cause. If you don´t know about The Undershaw Preservation Trust yet, please check their website or their facebook page.
Heyhey,
again, it´s been quite a while now, since my last entry. How have you all been?

It´s been a busy time for me. I´ve written my last essay for uni, moved out, had a lovely christmas time, visited a dear friend over new years eve and flew to London for a couple of days. Now I need to make a portfolio and probably a showreel to apply for jobs. I´ve been a bit low last week, trying to motivate and convince myself that I am good enough for whatever I want to do, but it did not work. It´s better this week though, maybe I just needed to settle in and calm down.

And what to think about the new season of Sherlock? I needed a while to adjust to the new season, but now that I saw the new episodes at least twice, I am quite satisfied with the new season.
I really liked ASiB. There are a couple of things to argue about but I think it was visually the best episode so far. Paul McGuigans directing was brilliant as well as the score. And I loved all the interaction between Sherlock and Mycroft.
I enjoyed Hounds too, but even if it pains me to say, in my opinion it was the weakest episode of the new series. It´s far from beeing bad, it was just a little too predictable. But the acting was superb and we got some glorious Sherlock and John moments, which we missed in Scandal.
Reichenbach was brillant. I am still thinking about how everybody moaned when they heared that Steve Thompson is writing Reichenbach and in the end he delivered the best episode of the series. I loved every bit of the episode and cried at the beginning, in the middle and at the end. Twice.

I have not drawn season 2 much fanart yet, but I am sensing a lot of cuddling and kissing in the future.

Here is some of the fanart I´ve drawn in the last week. From newest to oldest.




I found an expression meme on deviantart and decided to fill it for practise. That´s what I´ve got so far. There are still some expressions I haven´t finished yet. Watch high res in new tab.
As I promised, I drew another fanart for one of
stardust_made´s fanfictions. It´s a birthday fiction and you can read it here. Actually, read all of her fiction, it´s all brilliant.
"Do you ever wonder if there´s something wrong with us?"
Just a little something, to start drawing again after the first two episodes.
This was one of my favourite moments. I thought they probably had this conversation before.
This is a silly little drawing I drew in september and I´ve never been satisfied with it. But since it´s finished and I am never going to work on it again, I decided to post it anyway.
This is it. Hope you enjoyed them and thanks for stopping by.
I know I´ve been a lazy blogger in the last months. And I am sorry that I did not keep you up-to-date, but these where probably the busiest months of my life. I´ve been working on my animated movie and even though I´ve started in june, I had to work almost non stop till two days before deadline. Which was sunday night.

I presented the finished movie this tuesday at university and afterwards we opened a small exhibition to show all of our projects. I´ve had my ups and downs but now, with the stress behind me and a lot of positive response to my movie, I can say, it was worth it. I am still exhausted, but happy and I already look forward to take on new projects.
I don´t know if I told you, I have tumblr as well. I´ve posted more frequently on tumblr lately, because it´s faster and easier, but I´d like to share some work in progress here as well.
pencil sketches, done on my light table.

finished pages after I´ve inked them with my drawing pen.
backgrounds : D
filmstills
small filmsequence
movie length: 5:46 min, drawn on 1200-1300 sheets of paper.
If you´re interested, this is my tumblr account. http://queenstardust.tumblr.com/
thanks for looking <3
A quick introduction to my movie.


My main character is a detective, who was inspired by a description by Wilkie Collins of his fictional character Seregeant Cuff. This description could also be a description for any Sherlock Holmes actor and since I am a huge Holmes fan, there is an undeniable inspiration as well. If I have to pick an actor who inspired me especially it would be John Barrymore, Peter Cushing and the russian Holmes actor Vasily Livanov.

As for the story, it is influenced by detective stories in Film Noir and therefore has nothing to do with Sherlock Holmes at all. It is a nonlinear story, it has a lot of flashbacks and nothing is as it seems. It starts with a murder and the detective searches for clues and and the viewer will get some hints too, which he will only understand in the end where everything is joint together. I tired my best to create a complex story with 3 persons and their relation within 5 minutes time. I won´t be able to do a longer story because I am doing traditional 2D animation, which means I have to draw 12 sheets per second to make the character move.
I am trying to accomplish that Film Noir look as well, but that´s a bit tricky...

Enough talk, I have 3 gifs for you and a background for a scene. Although I scanned almost all of my 500 sheets of paper so far, I haven´t animated everything and there are still some backgrounds and frames missing. So there is plenty more to come!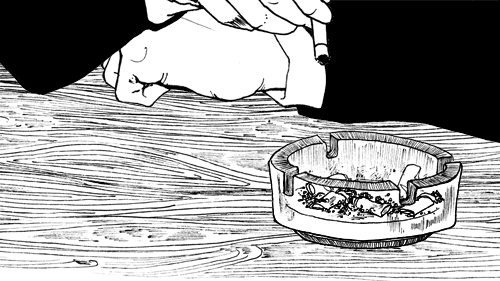 And Eugene who is waiting for his background and the missing frames


Last but not least, my favourite background so far.


Thank you for looking <3
It´s been ages since my last update!
But since end of june I am full time working on my diploma. I made good progress and I have drawn more than half of the movie till now, which is more then 500 sheets of paper. I had to start a second packet with 500 sheets last week. Most of it is scanned already, but not yet animated. I still owe you a post about the movie and the next entry will definitely be about my diploma! I promise!

Meanwhile, I´ll show you two new fanart drawings. Both are prompts and I was very happy about them. I often wanted to draw something for myself in the evening (or rather after 0:00am, when I was finished) but I was so tired and my brain was so empty, I could not come up with something. That´s why I was glad about these two suggestions and that I could draw something else aside from the grumpy looking detective in my movie : D
This drawing is for lovely MyTearzRunBlack, who wrote me a very nice mail and asked me to draw Sherlock, studying Mycrofts pocket watch. A
prompt I gladly accepted <3

The idea for the picture came instantly. I am sure Sherlock always knows what time it is, so what else to read from a pocket watch? My headcanon says that their father died when Mycroft was thirteen, so Sherlock won´t remember much about him.
The watch is of course their fathers.

It was fun to draw something in black and white in a more realistic style. That´s what I like most <3



And this time I have the sketches too:


This drawing is for
stardust_made and it is an illustration to her casefic "The Poster Girl".
It´s a scene from chapter 5, where Sherlock and John investigate a murder with a strangled victim. Afterwards, Sherlock wants John to strangle him from all potential positions, because something was unusual with the traces they´ve found on the crimescene.
John´s not very happy with the situation …
Go read it!


Thanks for looking <3
I have been busy with my diploma. About 3 weeks ago, I started to draw the actual movie. I have a tight plan, which I have to follow, because I want to finish all the drawing by the beginning of october. But I will write a separate entry about the progress to my animated movie. Hopefully soon ...
Because my diploma kept me busy, I had not much time to draw fanart. And when I draw all day, my head is quite empty by the end of the day. I usually want to draw something else to relax, but I just can´t... >_>
That´s why, now, a month after my last update, I only have 3 new fanarts. But good ones! xD

The idea for my first fanart was basically this scribble I drew while watching tv:

Lol. (I still love it more than the finished fanart)
And because I am sure that Sherlock loves sweets (sugar is good for brainwork) but would never admit that he does, he´ll steal Johns dessert!


John´s going to stab him!
I once had a flatmate who always ate my dessert whitout asking me. We never became good friends ...



They do what they do best <3
I drew this ony because I needed to draw the Holmes brothers again. And I wanted to do something with this simple colouring.


And last but not least:



<3 Inspired by a Girl who carried her pug puppy like this. Its wrinkles did the same as Johns jumper ...


Hope you like them and thanks for looking.
I didn´t do much for my diploma lately, but I was testing some backgrounds to define the look of the movie.
I think something like this would look good and very noir.





Would you like a short animated movie in this style?
And I took another challenge and drew a page for the "Undershaw Preservation Trust".




Even if I am not british, I think it´s a shame to let his only existng home rot.
Learn more about the "Undershaw Preservation Trust" on their website and on facebook.

And I have a lot of new stuff to post to my journal.
The most important thing is: I have a story for my diploma ! Yay. As I told you before, it´s going to be a animated movie, inspired by detective movies in film noir style. I have a detective already, I have two parallel storylines and there is going to be a murder! (or two)
I just have to start with my storyboard, but I try to get around it as long as I could, because it´s no fun at all. And as soon as the storyboard is finished and the story is definite, it´s only working through it *sigh* And it´s going to be a lot of work.
That´s how I work:


With a lot of coffee, on my carpet xD
And if I want to avoid thinking about my storyboard, I draw fanart instead. I have 3 new "Sherlock" fanarts, and 3 new sketchbook pages, with "Sherlock" and "Doctor Who" to show : D
But they are probably the most difficult thing I have drawn in a long time xD I have no practise at all.
A couple of days ago I suddenly had the urge to look up the actress who played Anthea on google. There are not a lot of photos of Lisa McAllister, but! that sexy photoshoot she did for FHM. After finding this and James Bond paintings by Robert McGinnis, I wanted to draw a sexy woman as well. And this, as you can tell, is very unusual for me x D I dont usually draw girls, except they are cute and wear huge Tshirts.
Because I needed a context to start drawing, why not chose Anthea x Mycroft.
So I sat there hours to draw Antheas shape and fit her boobs into that bra, and afterwards about 5 minutes to draw Mycroft next to her ... I really need practise.
The finished picture and an update to my diploma is under the cut :D
(
clickclick
Collapse
)
Girls are cool.